Why We Love Them
We love brochures, the standard "tri-fold" is easy to carry, fits in a pocket, and gives us lots of real-estate to print our message on. They are so common that you can go out and buy brochure holders as easily as you can buy a business card holder and more easily than a full sized flyer holder.  But it is more than that, and we will discover the psychology of brochure design and printing and how to take advantage of that, in the paragraphs that follow.
The 2 Folds
Brochures in North America usually start out as 8.5″ x 11″ and are then folded.  There are 2 ways to fold brochures, in a "Z" pattern or as a letter fold or roll fold, the latter results in a panel tucked in the centre of the other 2 panels.  The difference in designing these 2 methods starts with the Z-fold has 3 equal panels each being 11/3 or 3.667″ while the letter-fold has 2 panels larger, say 3.7 and 3.7 leaving the last panel to be 3.6″.  The letter-fold requires a little more design savvy to keep the sides straight.
The Need to Bleed
Bleeds in printing is the concept that the ink extends beyond the border of the brochure and is cut off after printing.  So 8.5″ x 11″ brochures are printed on paper that starts out as 9″ x 11.5″ and is then cut to size.  The standard width for a bleed is 1/8″ or 0.125″ on each side, this allows for sight slippage while cutting.  It is also for this reason brochures are never look right if printed on a colour printer at home.  Most home printers cannot accommodate the oversized paper required and most homes don't have a paper cutter big enough to cut through several hundred sheets of paper at a time.
A Bit About Paper Stock
In today's market, brochures are consistently printed on a glossy paper stock that is usually 80lb. or 100lb. See my post about "Why 20lb. paper is 20lbs." for an explanation of paper weights.  This is a good quality paper that we have become accustomed to, and again, if a brochure is printed on something else, we notice it right away.  Further, there is little marketing advantages to printing brochures on linen or laid stock except in very special cases.
The Psychology of Design
Most brochures I design are of the letter-fold variety.  I like this variety because most people handle them the same way.  What happens is the receiver looks at the front panel, and if interested, either looks at the back or opens it up fully and stares at the centre as a full spread.  I have seen this happen so many times I can time it.  So armed with this knowledge we set our design to maximize our message.
The Front Panel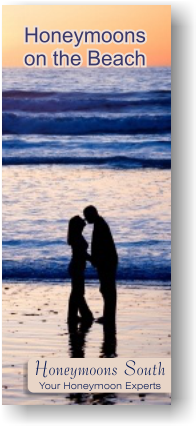 Three things have to happen here; we have to tell the viewer:
>  Who we are
No contact information goes here, just a logo and a name.  It can be at the top, bottom or centre, it doesn't matter.  It can be big or small, but make sure it is consistent with brand guidelines
> What the brochure is about
Clearly define a single thought.  If you are doing many things in the brochure try to bring it all under one generic umbrella.  There will be space enough to go into detail on the centre panels.
>  Capture their attention
A picture is worth a thousand words.  Spend some real time finding just the right picture, stock photography is cheap these days, it is your time that is worth something.  If it is in the budget, get professional shots done.  The picture needs to reflect you, what you are selling, and either who the audience is or who they want to be.  Don't use before and after shots here, just the after shots – sell the sizzle.
Central Panels
Remember that your prospect will probably open the whole brochure up and look at the central panels as one.  This is where you get into the nitty-gritty of your product.  You can either do one big cohesive thought here or break it down into 3 to 6 sub-products or advantages of the overall product.  Use some smaller pictures to break up the text.  Don't worry about designing to the folds so much here, it doesn't matter.
Back Panel
Traditionally this is where you put all your contact information.  A map is nice here if you have bricks and mortar operation.  Hours of operation are also good.  Don't put a coupon here, it is the centre panel and that means prospects will have to tear out the centre of the brochure to get it off.
Tucked in Panel
This is usually what the prospect will read last.  It is often a dead panel and only those that really want to know about you will read this.  You can use the bottom of this panel to put a coupon to capture the prospects attention.  Other uses for this panel would be a mission statement, or credits to others if it is a joint effort brochure, a list of upcoming events or something that is not the main thrust of the brochure's intent.
 There you have it folks – a step-by-step guide to designing a brochure for printing.