Confused about what to expect from a Web Designer

I do web design in Milton, Ontario, the fastest growing community in Canada, 3 years running.  There are a lot of start-up businesses here competing with the established businesses that have existed for years.  New businesses turn to the internet to try to gain marketshare in established communities and more established business use the same to try to reach a new, younger, more diverse population.
Most small business owners do not have the time or want to build their own website.  Some small business owners have used online tools to build a website and are disappointed with the results, or give up half way because of the time and effort involved.  So at some point business owner seek a web designer or developer to do the job for them.
Enter the Clowns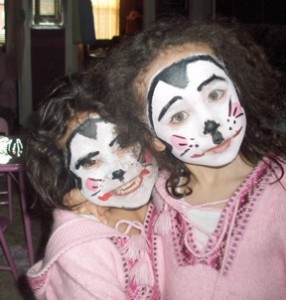 There are many people out there that can code a website, especially with the tools provided by WordPress or many other content management systems (CMS).  Many people buildwebsites in their spare time for a little extra cash – they are either students or people with day-jobs.  They sell you on the idea of a CMS so you can update the sight anytime you want.  Though this might sound like a good idea at the time (like getting a tattoo on your forehead when you are drunk) the reality is that learning a CMS takes time and in the end you probably won't will get frustrated making changes to your own site after it is built.  When you get frustrated and call the original designer you find that he or she has moved on, has a different job, has a new born and no time or is in the county lockup.
You can't believe the stories I hear from customers who want me to "fix" their website because of one of the above reasons.
What You Should Look For
References
The first thing you should ask is for some references, not just a list of links to websites previously built, but phone numbers of real people that you can talk to.  You need to know if the designer listens, if they implement the customer's vision or just do what they want.
 Consistency
Once you have the list go to the website, see if you like the design.  Click the links see if they work.  Look to see if there is consistency across the pages or does it look like a hodge- podge of different ideas.  Graphics are very important because they draw the eye and anchor the content to the page.
What You Should Discuss
Why?
Why do you want a website?  What are your goals, a designer should be asking you these things, if he doesn't it is a good indication he is just going to do whatever he wants.  Different websites have different purposes, sometimes it is to be found, to rank in the search engines, at other times it will be a destination website – like for an author keynote speaker, or local group: who promote their brand off-line and want a website to put their schedule up or promotions, but visitors usually just search for the name.  The approach to these websites is very different.
What?
What does the designer provide?  Will he secure a domain-name for you?  Will he host the site for you or get you hosting and put the site up for you?  Or is all that left up to you?  Along with this: who owns the domain-name, who owns the hosting, who's credit card is being used?  There are some pretty slick operators out there that will just bill you, and that sounds easy – until there is a problem.  You are unhappy and want to move your site – surprise! You don't own your site or the domain-name and the designer is holding it hostage.  I obtain a domain-name and hosting for my clients with their credit cards, that way they pay for it, they own it, and they can do whatever they want.  Bluehost gives me a nice little kick-back for each site I sign up through my domain and that covers the time it takes for me to do the work.
When?
There are 2 when's.  "When will it be finished?" is the wrong question. "When will I get my first update?" is what you should be asking.  I am surprised by the number of professional SEOs and Web designers that do not use a pay-as-you-go strategy for their work.  Updates and payments should be in lock-step.  As for website designers there will be an upfront fee, too much work goes into planning a good site before any pixels are laid down for there not to be.  I ask for 25% down.  The first update should come when the first page is complete.  The first page takes in all the basic design elements, the navigation, the look and feel that will propagate throughout the site.  At this point expect to pay another 10%-25% depending of how many pages you are having built in total.  At this point you need to make changes to the design if you want them the first page is a harbinger of things to come.
Designer vs. Developer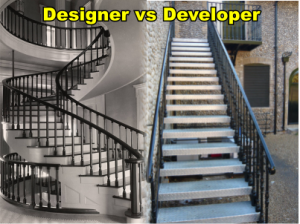 These terms are often used interchangeably they should not be.
Designers work with design, they like pretty things and are good at displaying them, and drawing your attention, and usually they can write something in a coherent, flowing manner. They are good at making you look good.
Developers, on the other hand are code monkeys, they love to work in the dark, with white text on black screens.  They are drawn to new flashy things.  But they really know how to make things work, like html engineers! Want to know what the difference is between ISO-8859-1 and ISO-8859-2 is, ask a developer.
In reality most people that build websites for a living exist somewhere between these 2 extremes but few are sitting close to the 50-50 mark, then tend to one end of the scale or the other.  Your website builder should know how to make things pretty, how to design for human consumption, but keeping in mind code efficiency and SEO.
SEO
Most sites need to be developed with some eye to SEO.  If the on-site SEO is not formed properly no amount of off-site SEO can really work.